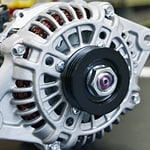 Item of trivia: Ask anyone what generates electrical power in a car, and they'll say, "The battery." However, your car battery only provides the initial jump that gets your car started. Your car's alternator does all of the hard electrical work thereafter. Here's how.
Energy in Motion
Your car's engine and wheels do more than get you to destinations in Schaumburg. The spinning motion of car wheels creates tons of mechanical energy. Your car's alternator harvests this energy. The alternator then generates electricity after pushing the electrons through a circuit. As you cruise, your car's alternator dispatches this created electricity to your car's electrical systems and for the benefit of recharging your car's battery.
A Brief History of Alternators
Although integral to modern cars, alternators first appeared in special-use vehicles during WWII. Prior to this, Ford outfitted a few Model T cars with alternators. They became standard equipment in the 1960 Chrysler Valiant. Alternators should be changed at least every five to seven years.
To have your battery and alternator checked or changed, visit our Napleton's Schaumburg Mazda service department at your earliest convenience. We hope to see you soon.