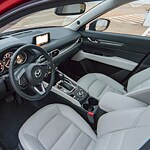 The Mazda CX-5 is bound to appeal to technology aficionados of all ages, and it's time that you got to know this crossover sport-utility vehicle model if you're not already familiar with it. Our team is pleased to have the popular CX-5 in stock at our showroom in Schaumburg right now, so come by and take one out on a test drive at your convenience.
The CX-5's tech features are intended to enhance your traveling experience while boosting security and peace of mind. You can stay connected almost anywhere by syncing the onboard control system with Apple CarPlay via your smart device, and you'll be able to manage everything on the easy-to-navigate dash-mounted touchscreen.
A cross-traffic alert system, blind spot monitoring and frontal collision avoidance are just a few of the standard and optional safety amenities that can be included on your CX-5.