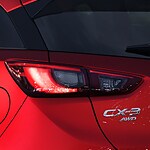 The newest Mazda CX-3 is a headliner in the subcompact crossover industry. Its design features are hard to match in other comparable crossovers. These features are geared toward making your drive safe and convenient.
In fact, the new CX-3 takes much of the guesswork out of driving safely on any roadway. With its smart brake support with pedestrian detection, it lets you follow safely any traffic in front of you. If you get too close to the car in front, you will automatically slow down thanks to this innovative feature. It prevents you from tailgating and possibly getting into a rear collision accident.
The new CX-3 also comes with blind spot monitoring, which alerts you to cars that you cannot see in your blind spot. You no longer have to crane your neck to see your blind spot or ask your passenger to check for you. This feature lets you know when it is safe to change lanes.